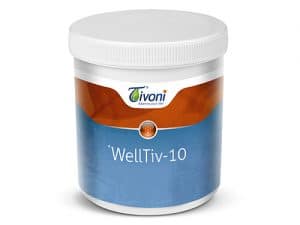 WellTiv-10
€40.00
Contains: 180 gr.
Look Your Best with WellTiv-10!
Do you also have an acquaintance that eats non-stop, yet simply does not gain any weight?
Out of stock
Description
How does that happen?
How is it possible that some people eat less than others and still gain weight?
The answer lays in the way your body treats what it eats! With WellTiv-10, you CAN lose the weight you want—naturally.
WellTiv-10 helps your body convert the food it consumes to readily available energy, instead of turning it into stored fat.
This in turn helps shape the body into a more desired form.
Diets that are based on food prevention throw the body into distress – a situation that causes your body to fight against that distress.
WellTiv-10, the Tivoni Weight Control Method, feeds the body nutrients that help it convert food into available energy, preventing it from storing fat. In addition, standard diet methods result in lost body fluids during the first phase- a false weight gain that can lead to discouragement. In the second phase, standard diets commonly reduce muscle mass (which is actually the result of damage to the muscle).
Only after a lengthy period do these traditional diet programs finally reduce the unwanted and unhealthy fatty tissue. The result, as you probably know, is a failed attempt at dieting and drastic weight gain. This happens in 95% of typical dieting scenarios. But that doesn't need to happen. You CAN have the body you desire and without all the hassle.
WellTiv-10 encourages your body to start dropping fatty tissue naturally, and it doesn't hurt your muscles. In fact, WellTiv-10 actually nourishes your muscles and helps shape them. Using WellTiv-10 enables you to lose weight effortlessly, with no suffering or damage. The result is stable weight, for a longer period of time.
What is WellTiv-10?
WellTive-10 contains collagen, which is produced using advanced technology, and extraction from Garcinia.
WellTiv-10 significantly enhances the body's ability to utilize food for the production of available energy, thus reduces conversion of food into fat. In addition, WellTiv-10 helps reduce existing fat while improving the body fat composition, which includes the control of bad cholesterol and enhancement of good cholesterol levels. WellTiv-10 nourishes the muscles, which is why weight loss will be accompanied by body shaping
Did you know?
Nowadays, 95% of our food is processed, sprayed, and contain chemicals, hormones and flavorings. The result is multiple metabolic disorders causing difficulties in weight management.
Recommendations
We, at Tivoni, advocate a controlled weight loss process while eating a balanced diet. We believe that a crash diet causing great damage and the weight is gained back.
Advantages
Restrains appetite.
Promotes the feeling of fullness.
Reduces the need for out of control eating.
Supports fat utilization into available energy and thus reduces the body fat level.
Helps with the management of body weight and Body Mass Index (BMI).
Inhibits fat and cholesterol production.
Regulates blood serotonin level.
Encourages metabolism.
Reduce craving for sweets and carbohydrates.
For those who have lost weight, WellTvi-10 helps maintain proper weight, for a long period of time.
Activity
WellTive-10 turns carbohydrates into long lasting available energy, instead of fat and cholesterol. WellTiv-10 enables absorption of essential components from the food.
WellTiv-10 helps balance the blood serotonin level.
Serotonin is important for the management of appetite, mood and sleep. It is important to balance overweight people's emotional state since they use food as a compulsive compensation for states of frustration, stress or depression, WellTiv-10 does that. WellTiv-10 is not a stimulant and therefore does not have a negative effect on the nervous system. A dose of WellTiv-10 is a perfect substitute for a snack between meals.
General Information
Why do we need WellTiv-10? Weight gain is this century's most widespread epidemic, causing much disease and death.
There has yet to be a real solution to the problem Today, individual weight management is harder than ever, and as we grow older, it literally becomes mission impossible.
WellTiv works from within. It supports the process of losing weight and may be used as a part of a balanced nutritional program as well as a standalone diet. WellTiv-10 is an effective solution for people who suffer from excess weight, diabetes, thyroid problems, hypertension, and other diseases associated with weight gain. It is common knowledge that weight gain exacerbates these diseases.